Load Testing Services In UAE
Several objects are used for this type of testing, and Fremont marine can perform the load test via multiple other objects. We are capable of performing all kinds of load testing services using water bags, dead weights, and water bolsters are a few tools to measure the mechanical strength of the ship. This test makes sure the ship's foundation is firm and stable enough to survive the deadly waters of different oceans. The mechanical strength of shipboard cranes, lifeboat davits, anchor winches, and launch systems can be checked through this test. In addition, an indication of errors present in the mechanical structure of the ship can be highlighted through load testing.
The possibility of damaging the ship becomes zero to none with a proper load testing outcome. The protection of crew and supplies is always a top priority of any shipping company. This load testing services and method makes sure everyone stays safe and sound. High temperatures and heavy supplies can be alarming for many shipping companies and, most of the time, lead to shocking and heart-wrenching events.
This test makes sure the equipment/supplies to be traded are not damaging or creating a panic on the ship. Therefore, before any ill fortune in the oceans, load testing is performed. This testing complies with the ISO and its rules and regulations. Two key determinants this test depends upon are: shock testing along with fixed displacement vibration. These two make sure the ship is in the best condition and is free from all sorts of trouble-causing factors. Fremont provides the best load testing services in UAE. We offer all kinds of load testing using water bags, dead weights, & water bolsters, and high-quality marine services for our clients.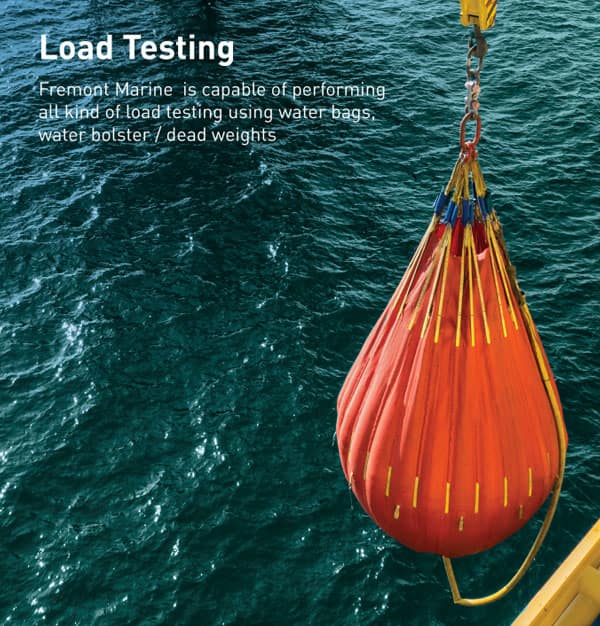 Lifeboat / Rescue boat / Davits
Free Fall Davits
Provision Cranes
Cargo Cranes
Accommodation and Gangway Ladders