Lifeboats Davits Services In UAE
Fremont Marine provides the best lifeboat service in UAE. We offer highly qualified engineers who inspect & repair Lifeboats Davits & Winch System. Our team of qualified service engineers and technicians makes sure to follow the latest methodology and deal in accordance with the rules of law regulatory bodies and hence are widely accepted. In addition, our customers benefit from an option of annual services or a service of 5 years. Our services inspect the Lifeboats Davits and Winch system of any shipping company and maintenance regarding such systems and equipment.
Similarly, Changing of wire fall is also a necessity for any shipping company as for the life of the ship, wire fall is a key. The salty water and moisture of the sea are cruel and seem to spoil the body of any shipment. Therefore providing this service is one of our most essential features. Load testing services are carried through an amazingly talented team of engineers and technicians.
Bodies of ships, mostly their base, are usually prepared with the help of FPR. A team of specialists repairs any damage to the bottom of the surrounding vessel. In addition, a complete overhauling of the on-load release mechanism will be provided that will improve the efficiency of the mechanism and increase its life. Other services like painting our client's lifeboats, sprinkler pumping services, Winch, and engine repairs and all marine services are being provided to our customers daily.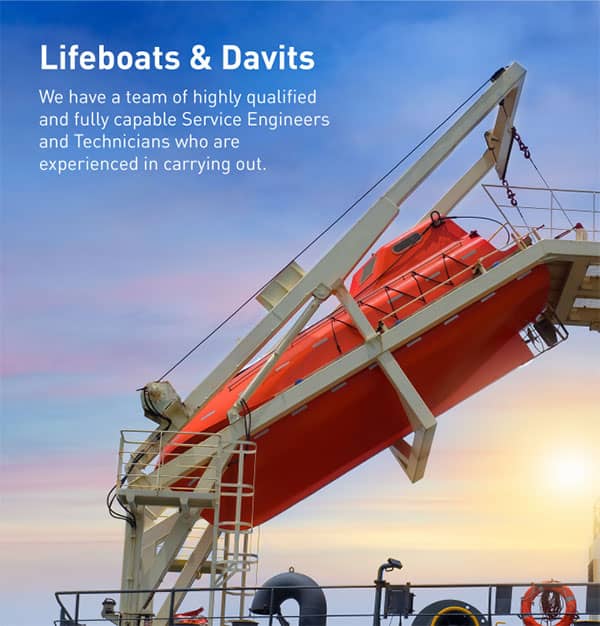 Annual and 5 yearly Inspections of Lifeboat Davit & Winch System
Annual Inspection of Rescue Boat
Load Testing
Wire Fall Changing
FRP Repair
On-load Release Mechanism Overhauling
Lifeboat Painting
Sprinkler Pump Servicing
Winch Repair
Engine Repair