WHAT IS EQUIPMENT OF LIFERAFTS ?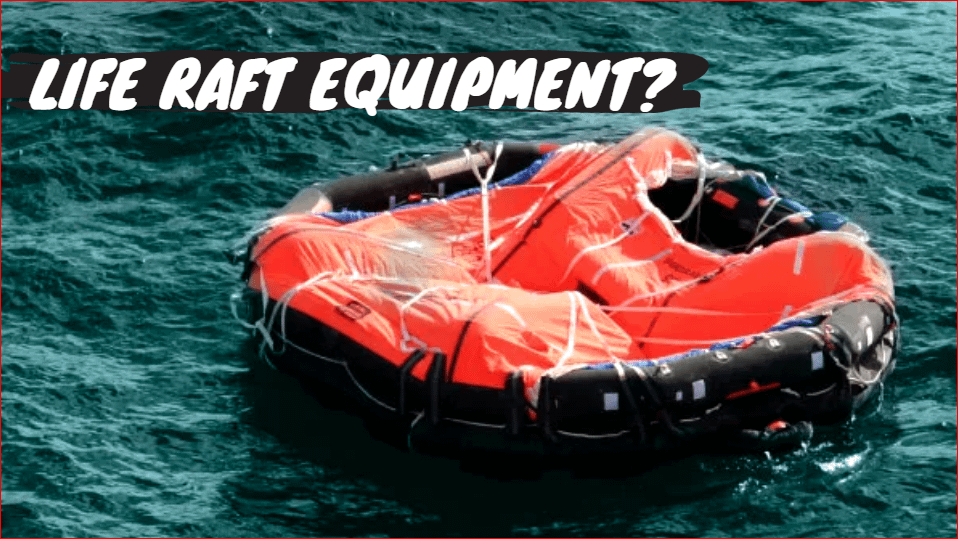 WHAT IS LIFE RAFT EQUIPMENT?
When the weather is nice, and you plan to take your friends and family on the boat. And along decided what food items to take and what dresses to wear. Did you ever think about the equipment you need for any emergency? The emergency survival gear? One of the important pieces of equipment of liferafts equipment. The chances of accidents are small, but you can never be fully convinced about the conditions. There is always a risk of boat sinking and the inconvenience of boat failure.
Life rafts or lifeboats are small, rigid, and inflatable boats used for emergency evacuation on ships. They protect the open ocean from increasing the survival of passengers and crew. These rescue vehicles may have a limited amount of supplies for passengers waiting for rescue. Life rafts equipment helps you to control an emergency while being on a boat. The chances of being left behind in an ocean and returning to dry land often depend on the emergency survival kit or what equipment of liferafts we have to control the situation.
WHY IS LIFE RAFT EQUIPMENT IMPORTANT?
The inflatable liferafts are one of the essentials in the survival kit or any boat and can save your life in case you have to leave the boat. The survival equipment is the last thing a boater would expect, assuming that the boater would probably never see the floating boat again. Life raft testing ensures that life rafts function as intended and increases the life expectancy of rafts while regaining your confidence in the open-air ocean. 
Equipment of liferafts assists you in dealing with any uncertain situation and helping the passengers to protect and save them. Therefore, you must have enough lifeboats or rafts on board to ensure that all passengers are safe and secure. In some cases, this requirement for this equipment has been doubled, allowing access to lifeboats and rafts on the side of the ship so that people can easily shift from emergency boats to rescue boats.
PROCEDURE TO LAUNCH LIFE RAFT EQUIPMENT:
Life rafts have an advantage over lifeboats as they are feasible to launch during an emergency. The life raft equipment inflates itself as soon as it comes in contact with the seawater. This onboard equipment of liferafts ship launched in three different procedures:
Auto release with hydrostatic release Unit

Manually launching

Launching by davits
SAFETY FEATURES OF LIFE RAFT EQUIPMENT:
Several types of life rafts are different in terms of design, features, and sizes. A life raft equipment normally has the following safety features:
Pressure relief valve.

Stabilizing pocket

Insulated canopy with two layers for protection from heat and cold.
TYPES OF LIFE RAFT EQUIPMENT:
All the life rafts equipment has different functions, sizes, and styles of boating. Some of the important types of life raft equipment are :
Rescue platforms

Coastal life rafts

Offshore life rafts

Open lifeboat

Closed lifeboat

Freefall lifeboat
SPECIFICATIONS AND FEATURES:
Before buying life raft equipment, make it necessary to check all the points that you need in your life raft. Without these important features, there is no point in buying a lifeboat that is of no use. A life raft equipment must have the following features:
CAPACITY:
Before buying the life raft, the first thing to check is the number of passengers the boat or raft can sustain.
SIZE:
The size of the raft is an essential part. In addition, a boat or raft's weight and deployment dimensions are very important for configuration storage on a vessel.
PROVISIONS:
A raft should contain the emergency food and water supply often listed as less than 24 hours or more than 24 hours.
BALLAST
:
Please make sure that the pockets under the raft fill with water to reduce the potential of its capsizing.
RIGHTING LINE:
A rope or a strap so that an individual passenger can utilize it to ride the raft.
REPAIR KIT:
The repair kit inside the equipment of liferafts contains rubber adhesives and leak stoppers to repair the puncture independently.
SELF RESCUE:
It includes the equipment that passengers can use to instigate the rescue that consists of motors, visual signal devices, and radio equipment.
SEA ANCHORS:
It is a highly crafted sheeted mechanism that can make the life raft equipment steady in the wind, prevent it from spinning, and reduce drifts.
CANOPY:
It is an overhead fabric to keep the passengers protected from the weather on the rafts and boat.
HAND PUMP:
It means inflating the boat when air pressure is low either by puncture or because of the temperature.
Fremont marine offers its services all over the UAE. Their team is highly trained and makes sure to protect the passengers and cargo in any emergency. They have all the quality equipment like fire fighting equipment, life raft equipment, etc., to prevent any sudden problem. Fremont gives the best appliances and techniques to meet your needs. They have all the latest techniques to solve all marine-related emergencies. Moreover, they have all the portable and non-portable equipment to cope up with the situation on board.
Our emergency team makes sure to provide the best marine services. Life jackets, immersion suits, and chemical suits are also provided to keep the process smooth.
Further services include:
Lifeboat Services
Load Testing Service
Safety Equipment Supply