What Are The Threats To Maritime Security?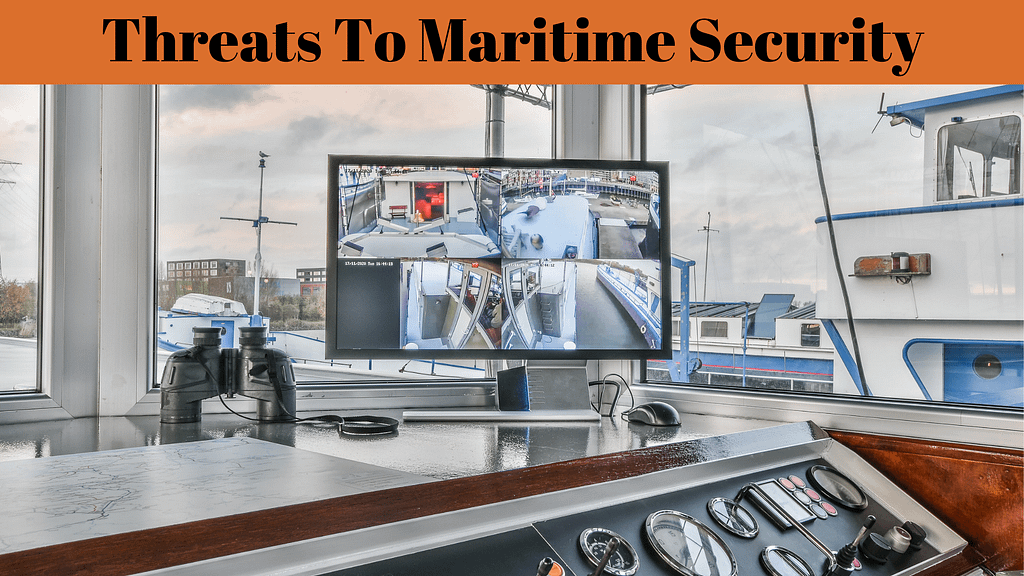 In this day and age, where the shipowners seek the external security of their vessels, the need for a vessel's internal security is also in high demand. This is a dire need, and major shipping companies look for such security services. A good grip on both the external and internal security services ensures a sense of security. Such a sense of security among the passengers and the crew eliminates any threats to maritime security. In addition, a sense of security spreads among the crew. The cargo owners whose foreign exchange is dependent on the vessels feel lightheaded. 
1. What Are Internal And External Security Services?
1.1 External Security Services
These services provide a complete surety and safety to the captain and his staff. Outside interruptions are threats to maritime security systems. Cases like thievery, piracy, or any other outside interference lie under the threats to maritime security. The examples mentioned above are of the external fears that most shipowners worry for. The services of armed guards become necessary for the vessels as in most routes. The chances of thievery and piracy are highly likely at times.
Therefore, in solving the external fears, the vessel owners purchase external security-providing services. The threats to maritime security and their probability rise exponentially if a company does not acquire the services of external security providers.
1.2 Internal Security Services
The internal threats to maritime security are solvable once the services of internal security providers are subscribed. These services include the maintenance and renewal of fire fighting systems. Also, automation services, calibration services, and multiple tests take place before leaving the shores. Major marine service providers offer these services at very nominal and customer-benefiting prices. After opting for these internal security services, the ship is safe and secure internally.
The threats to maritime security, especially internal threats like the bursting of gas cylinders or faulty engines, can lead to further disasters. The disasters caused by internal threats to maritime security are of the same extent as external disasters. Not having a fully-equipped vessel, unskilled staff, reckless crew, and incomplete marine services can increase the threats to maritime security. Following five are a few threats to maritime security:
2. Threats To Maritime Security
2.1 Piracy And Thievery
Piracy and thievery threats are always on the rise when a ship enters an unknown region. The pirates or armed robbers usually travel under the radar. Most of the time, their possibility of them getting caught increases while being on the radar. However, these armed men have their way of proceeding forward. Some pirate spots exist in different oceans. The ship captains mostly avoid traveling in such regions due to threats to maritime security. However, a robbery can still take place even by staying on the radar. These malicious pirates can do anything to get what they want.
2.2 Terrorism ignite the threats to maritime security
This category is, however, different from piracy or robbery. This threat to maritime security leads to unimaginable scenes at times. Terrorism is way different from robbery or piracy. It involves political and revenge motives. Terrorism leads to an increase in the casualty list. In contrast, piracy or robbery only leads to a loss of valuable items. Terrorism is backed by religious differences, rivalries, or political differences. Terrorism is one of the most deadly threats to maritime security.
Unlike terrorism, many war or warlike activities also take place in areas of conflict. The results, however, of such activities remain the same as terrorism. Moreover, such activities are hard to solve. Therefore the ones in between two different nations can become prey. The shipping companies should carry out a prior assessment of such a situation before leaving the shores. To be safe, the shipowners require detailed research about the region their vessel is traveling to.
2.3 Cyberattacks increase the threats to maritime security
Shipping companies these days prefer digitization just like any other traveling company from the transport sector. These digital methods provide excellent results. Every shipping company looks for convenience. Digital tech like radars, automation services, and many more are common these days. The development of IT provides aid to every industry in the world. Thus it helps the shipowners as well. However, the usage of the internet brings a lot of risks as well. These risks can be a sign of severe threats to maritime security services.
Each and every confidential information about the ship can leak once its system is hacked. In addition, professional hackers and spammers can hack the security or radar system of the ships. These hackers ask for a huge amount in return. This unauthorized access is very dangerous and is a major threat to maritime security systems. Therefore, shipping companies must carry out regular checkups on their cybersecurity teams. An investment to ensure everything is safe and sound is a requirement nowadays.
2.4 Fire Emissions
Sudden eruptions of fire can be an alarming sign for the shipowners. Faulty engines can cause fires to erupt. Other reasons include improper kitchen equipment and flammable cargo. To ensure 100 percent safety, the crew must keep a non-stop look at the things mentioned above. The crew's duties keep changing. Regardless of the change of responsibilities, a constant eye on the possible fire-causing things is kept. Such threats cause a lot of damage.
2.5 Harmful Weather
There is no denying that the weather plays a massive role in creating onboard disturbances. The oceanic currents, excessive and non-stop rainfall, along with thunderstorms, can cause havoc on the ship. In the days gone by, many people suffered the weather's wrath while onboard. However, in the current era, where the weather forecasting is top-quality, the shipowners feel relaxed.
Even though there is no control over the weather, some steps should be taken to avoid such threats. Weather threats to maritime security can become unsolvable at times. As a result, people lose their precious lives from the wrath of such a deadly environment.
3. What Are The Steps In Solving The Probable Threats To Maritime Security?
Disturbances and mishaps on board can result in major threats to maritime security systems. The disruptions caused are solvable in nature and require an overall good performance. The crew, captain, and the technology team should all work for better security. A proper result-providing team can help in solving major threats. However, suppose the crew does not perform the desired results. In that case, these threats to maritime security can rise to an even higher level than before.
A Good Shipping Company Should Focus On:
A regular and complete inspection of the vessel.
Conventional maintenance once the inspection is over.
Handling the cargo.
Reporting problems
The hiring of armed guards to ensure external safety
Provide security training to avoid internal and external risks.
Monitor safety equipment.
Carry out complete supervision of the crew members.
Our emergency team makes sure to provide the best marine services. Life jackets, immersion suits, and chemical suits are also provided to keep the process smooth.
Further services include:
Lifeboat Services
Inflatable Liferafts
Load Testing Service
Calibration Services
Safety Equipment Supply
Fire Fighting Appliances.