10 MUST-HAVE SAFETY EQUIPMENT FOR SHIPS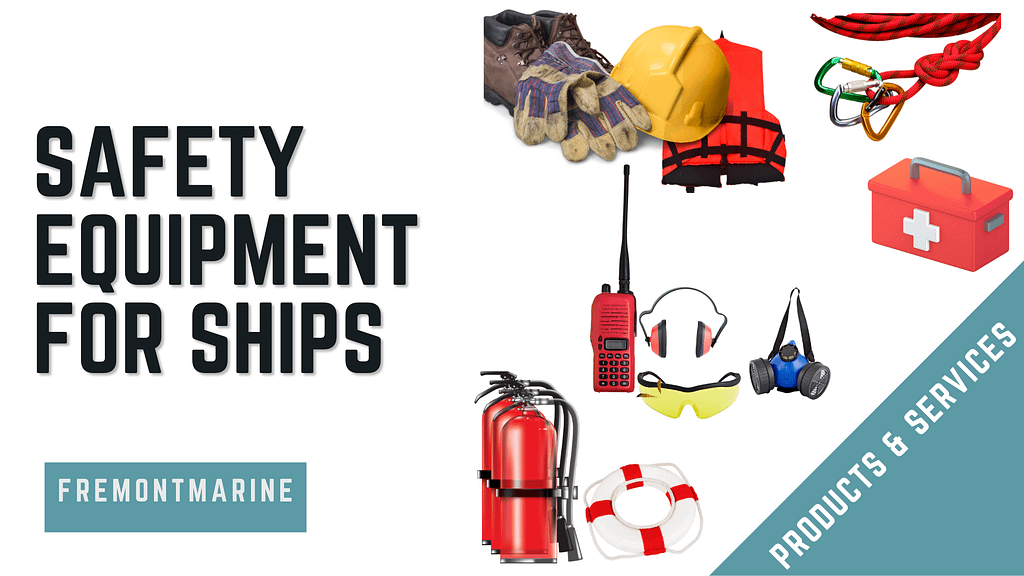 There is nothing more exciting than spending a day on a ship with your friends and family. The ships provide the best view and add more fun to your trip. Traveling on a ship can be a lot of fun, but it is also quite dangerous. Accidents on ships happen quite frequently, but it can stabilize if proper safety procedures with necessary safety equipment for ships are available.
The most important thing not to forget is safety in any emergency like accidents or fire eruptions. Personal safety is the first step at these crucial times and should be the priority for everyone on the ship. While the crew on the ship should also know about the basic safety measures to ensure no casualties.
Safety equipment for ships is necessary for these kinds of terrifying situations. All the important and necessary equipment must be available on the ship to keep people and cargo safe from any mishap. The foremost thing is to avoid accidents and injuries on the ship. As seen from the accidents on the ship, lacking safety equipment for ships and safety measures can lead to horrible accidents. To minimize the loss of life and property, the safety companies must ensure the safety of people on board.
1. SAFETY EQUIPMENT FOR SHIPS:
Safety items for ships are necessary and should be accessible to everyone.
Here are some important fire fighting appliances that should be available on the ship in case of emergency:
 1.1 FIRE EXTINGUISHERS:
It is a must for every ship to have different types of fire extinguishers for efficient handling of different cases of fire that may erupt on the ship. In such scenarios, portable fire extinguishers are extremely useful. They can be tremendously helpful and can help to put out small-scale fires on the ship.
They have sulphuric acid to put out the fire, but directing it on the fire cools the burning object. A fire extinguisher should be in the area which is accessible to everyone and close to the potential fire sources to help. They are one of the basic pieces of safety equipment for ships.
1.2 FIRE SUITS:
Fire suits are also known as fire proximity suits. used while diffusing large fires or avoiding them and keeping yourself safe. The material used in these fire suits is heat resistant. Therefore, it protects the body of the people wearing them. In a situation of fire eruption, it is necessary to wear these fire suits and keep yourself safe.
1.3 BREATHING EQUIPMENT:
In case of a fire eruption on the ship, it becomes challenging for people to breathe due to smoke, and some people on board can be asthmatic patients as well. In those cases, safety equipment for ships uses breathing equipment like oxygen cylinders and masks for help. The oxygen mask offers a short supply of oxygen in emergency cases. Oxygen cylinders are usually used for more significant sources of oxygen.
1.4 FIRST AID KIT:
First aid kits are usually the most important part of safety equipment for ships. They include all the necessary medication and instruments in case of any emergency. A properly stocked first aid kit can provide immediate help to assist a person with a medical emergency and sometimes even saves a life. It is important first to get professional help and then try to assist using a first aid kit.
1.5 LIFE JACKETS:
A life jacket plays a considerable role in saving a life and is major safety equipment for ships. It provides help to keep the person wearing the jacket alive and help the person float on the water services in case of emergency and sudden jumps from the ship. The material used is polyester stuffed with foam cubes with reflective patches on the front and back to adjust the jacket accordingly.
1.6 VISUAL SIGNALING DEVICE:
The visual signaling device is safety equipment for ships; it comes in various packages, depending on different sizes and the place of travel. Ships must carry visual signals for both day and night time. The pyrotechnic devices, flares, smoke bombs, strobe light, and airtight flares can help navigate the signal of help in case of emergency, being a major part of safety equipment for ships. Some flares are self-launching, and a few require flare guns to send them to the sky.
1.7 FIRE HOSES:
Fire hoses are pipes that carry water or other fire retardants to a fire to extinguish it. It is high-pressure equipment. One side of the fire hoses uses the link with a water pumping system. Drying of fire hoses is an essential step because the water left in the hoses can cause deterioration.
1.8 HYDROSTATIC RELEASE UNIT:
Hydrostatic release unit assists liferafts in case of emergency. The liferafts will follow the ship but connect it through a hydrostatic release unit. The HRU usually consists of two types, portables which are for almost 2-3 years usage. Whereas the others have the infinite time of usage with a yearly checking for perfect grip. At 4m of water, the pressure activates, and it releases the mechanism and allows the life rafts to float on water. This safety equipment for ships is necessary to connect a lifeboat with the ship.
1.9 FOAM APPLICATOR:
Foam applicators are portable tanks with foam-forming liquid inside them. It consists of a foam nozzle of an inductor. The foam forms a blanket over the fire surface and cools it. It can cool fuel or any other metal surface. The form suppresses the combustible gases and cools them down. A portable foam applicator contains 20L of foam-forming liquid, used as safety equipment for ships.
1.10 IMMERSION SUIT:
Immersion suits are waterproof overall that covers the entire body to prevent any death in an emergency. An immersion suit fits perfectly on the body of a person and covers every part. These suits have neoprene which is rubber and completely waterproof. Immersion suits are a major element of safety equipment for ships.
FEW TIPS TO AVOID MAJOR INJURIES:
Wear comfortable and well-fitted clothes as loose clothes can catch up with fire or machinery faster and are very difficult to handle. Use shoes with a good grip, which can also minimize the risk of slipping. Safety equipment for ships like personal first aid kits and equipment are very necessary to save you from injuries.
With the availability of goggles, gloves, caps, and medical kits, you can protect yourself and help others in case of an emergency as well. It might be funny for a few people, but getting plenty of sleep is also an important point. As there is turbulence on the ship, a person with less sleep can feel dizzy and get unconscious and might fall from the ship or caught up with fire. These small tips can help avoid injuries and casualties and make safety equipment for ships necessary to be available.
Our emergency team makes sure to provide the best marine services. Life jackets, immersion suits, and chemical suits are also provided to keep the process smooth.
Further services include:
Lifeboat Services
Inflatable Liferafts
Load Testing Service
Calibration Services
Safety Equipment Supply.